Home with Peter
The Animals
We have a female German Shepherd named Zoe. We got her from the Southern California German Shepherd Rescue a few years back. Not sure why anyone would want to get rid of her, she's a total sweetie.
We currently have three cats, two formerly feral (got them in Santa Cruz). We are also holding onto three cats for a niece - someday they'll go back to her.
---
Images from my garden
I have the Rose bug. Not as bad as some have, but it's gone beyond just a few. In Santa Cruz, I had 11 full-size roses in the backyard, plus 4 miniature roses in a small bed. In San Diego, as part of the front yard renovation, I claimed space for the roses. I'm up to 7 roses now, with the ones nearest the house doing extremely well. I guess the roses like hot, dry weather - as long as they get plenty of water.

Here I am getting some roses from the bushes...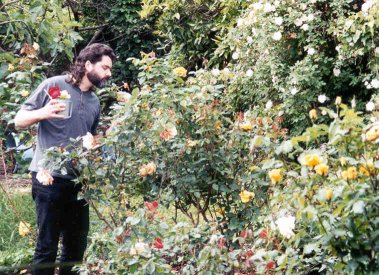 This is what happens when I neglected the roses for too long...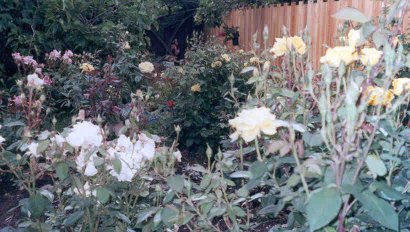 The yellow rose from Jackson and Perkins is called Sun Goddess. Not too much aroma, but it looks great, and lasts for a week in a vase. Very nice. I'm not sure what the coral one is called, as it was an experimental. Seems to like Santa Cruz weather, though.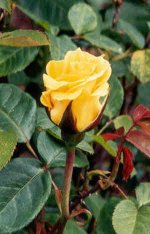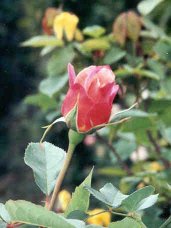 ---
San Diego, California (2003-Present)
San Diego is a nice enough place to live - the weather is what people would call California Weather - sunny most of the time, never that cold, doesn't rain much. My winter clothes are long pants and a sweatshirt. Makes for wonderful flying weather. Just don't show up in June and ask where the good weather is - that's when the marine layer overwhelms us and turns the town gray with overcast.
There are some fun places to visit here, no doubt. Local Wally's is a good site to start off with.
Santa Cruz, California (1992-2003)
I lived in the lovely town of Santa Cruz, whose motto is "Never a dull moment", for 11 years.
Strange and lovely town. Filled with university students, techies, surfers and business people. Only drawbacks I found to it were a lack of good Japanese restaurants and any decent jobs.
The City Parks and Recreation has some neat activities, for all ages (mental and physical).

Living near the Pacific Coast, the weather is always making a mess of the roads, so it is important to know when the roads are closed: current road conditions.

It's also nice to be able to see some of the sites from your computer:
Westside Santa Cruz.
Santa Cruz Harbor
Cowell's Beach

You can also find a lot more links to things Santa Cruz at the Cruzio Home Page

Nothing to do? Need some neat music? Then listen to KPIG (radio station) - they can be found 107.5 on the FM. Their webpage is rather interesting, too. They broadcast live on streamworks, too. They are also associated with the Video Ranch people. This is Michael Nesmith's company...think Monkees, and then think of the only one with Talent. He's also the guy that won the 1st Grammy for a music video.
---

Peter Thompson (peter@cruzware.com)
Last Modified: July 27, 2015